Information About the Author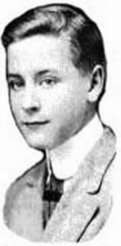 Francis Scott Key Fitzgerald was born in St. Paul, Minnesota, on September 24, 1896. His father, Edward, was from Maryland, his mother, Mary (Mollie) McQuillan, was the daughter of a wealthy Irish immigrant. Both were Catholics. His namesake was a distant cousin, who wrote the American National Anthem.
Edward Fitzgerald failed in all his jobs. The family lived in various places, returned to St. Paul in 1908, and lived comfortably on Mollie Fitzgerald's inheritance. Fitzgerald attended the St. Paul Academy; a detective story was his first writing to be published – in the school newspaper – when he was thirteen.
From 1911 – 1913 he attended the Newman School, a Catholic prep school in New Jersey, where he met Father Sigourney Fay, who encouraged his ambitions for personal distinction and achievement. As a member of the Princeton Class of 1917, Fitzgerald neglected his studies for his literary apprenticeship. He wrote the scripts and lyrics for the Princeton Triangle Club musicals and was a contributor to the Princeton Tiger and the Nassau Literary Magazine.
Since he was unlikely to graduate, Fitzgerald joined the army in 1917. He rapidly wrote his first novel, "The Romantic Egotist", because he was convinced that he would die in the war. This novel was rejected from Charles Scribner's Sons but he was asked to resubmit it after careful revision.
In June 1918 Fitzgerald fell in love with Zelda Sayre, the daughter of an Alabama Supreme Court judge. He twice rewrote and resubmitted his novel and finally, in July 1919 it was accepted – now under the name This Side of Paradise. Until it was published on March 26, 1920, Fitzgerald earned his money as a writer of short stories for magazines and newspapers and as a copywriter. After that date he became famous immediately and married Zelda just one week later.
The Fitzgeralds enjoyed fame and fortune, and his novels reflected their lifestyle, describing in almost autobiographical fiction the privileged lives of wealthy, aspiring socialities. Fitzgerald wrote his second novel, The Beautiful and the Damned one year after their marriage. Two years later, their only child, Frances Scott (Scottie), was born.
Then, they moved to France and being an alcoholic, he completed his best-known work, The Great Gatsby. In Paris, Fitzgerald met Ernest Hemingway – then unknown – with whom he formed a friendship and whose personality and genius he admired.
The extravagant living made possible by their success took its toll, however. Zelda suffered several breakdowns in both her physical and mental health and stayed in various clinics from 1930 until her death in 1948. Zelda's mental illness was the subject of Fitzgerald's novel Tender is the Night published in 1934. Being unable to write commercially successful novels, he sank into debts and still deeper into alcohol.
In 1937, things were looking up for Fitzgerald again, for he won a contract with MGM. Also he fell in love with Sheilah Graham, a movie columnist. He paid off most of his debts, was writing short stories and scripts and was working on the novel The Last Tycoon. Then he died of a heart attack – in Graham's apartment – on December 21, 1940 at the age of 44.
---